Mobile Banking
Enjoy banking from your mobile phone anytime, anywhere with American Heritage Bank's free and secure mobile banking app for Android and iPhones. Our user-friendly design makes banking fast, easy, and convenient. Features include:
View your account activity and balances
Transfer funds electronically between your American Heritage Bank accounts
Conveniently pay bills using Billpay and manage scheduled payments
Make loan payments at anytime
Deposit check images by using your phone's camera
Locate the nearest Branch location or ATM
Enrolling in Mobile Banking
You can enroll your qualified Android or iPhone through our website or by downloading and installing our application.
Enroll by downloading and installing our Application:
iPhone users: Visit the iTunes App Store
Android users: Visit the Google Play Store
Search for American Heritage Bank
Install the application
Once downloaded, tap on the icon to open the application
Enter your Username and then Continue
Answer your security question
Enter your password, then log in
Or to enroll through our online website:
Sign in to your Online Banking account
Click on Profile in upper right hand corner
Click on Enroll next to Mobile Banking
You are now enrolled!

Request Information
Electronic Bill Pay
Conveniently pay your bills using our free Electronic Bill Pay system.
Follow these simple instructions to setup your Electronic Bill Payments:
Sign in to your Online Banking account.
Click on "Bill Payment" on navigation bar.
Click on the "Add a Company or Person" button to add a new biller.
Enter information from your bill to setup your bill payment.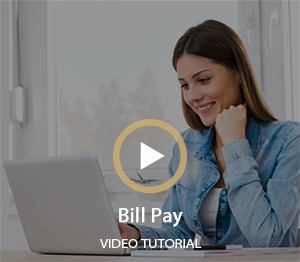 Mobile Deposit
Make deposits using the camera on your qualified mobile device at anytime 24 hours a day 7 days a week.
Enroll now for Mobile Deposit:
Access your Mobile Banking Account.
Click on the Deposits tab.
Click New Deposit.
Select account that you would like to deposit your funds into.
Enter amount of check you are depositing.
Click Continue.
Take a photo of the front of your check.
If you are satisfied with picture, click Use Photo.
If you are unsatisfied with picture, click Retake.
Sign the back of your check and include the statement: FOR MOBILE DEPOSIT ONLY below your signature. Failure to do so may prevent this item from being deposited.
Repeat process for taking a picture of the back of the check.
Once you have approved both images, a confirmation screen will appear for you to verify the information of the deposit. Click Yes to continue with your deposit.
A Result screen will appear to let you know the status of your deposit:
Deposit Pending: Deposit has been sent to American Heritage Bank to review.
Deposit Failed: A problem was found with Deposit. You will be asked to retake or redo the deposit.
Click on View Deposit History lets you review and check the progress of your deposit:
| | |
| --- | --- |
| All: | Displays all recent mobile deposits made |
| Pending: | Displays deposits that are still in the review process |
| Failed: | Displays deposits that were rejected in the review process |
| Accepted: | Displays deposits that were received and are awaiting processing |