Scholarship Opportunities
From the CEO of American Heritage Bank, congratulations on your important decision to achieve a post-secondary education! American Heritage Bank is pleased to donate $10,000 per year in ten $1,000 individual academic scholarships to graduating students from our area communities. Awarding these annual scholarships is a special opportunity for you and us to reinvest civically in our future generations of Central Minnesota.
1. Applications are available at local area High Schools or at each American Heritage Bank branch location and on our bank website at LogBank.com.
2. Applicant must have an account with American Heritage Bank.
3. Applicant must be a High School Senior graduating this year.
4. An independent committee of local college professionals will make the scholarship selections.
5. Scholarships will be awarded after the Applicant completes two quarters or one semester in any accredited non-profit post high school educational institute and submits enrollment verification for the next quarter or semester to American Heritage Bank within 1 year after the scholarship is awarded. Awarded funds shall be applied to Applicant's deposit account at American Heritage Bank.
6. Application deadline is April 1st of this year, please submit the completed Application and copy of high school transcript to your local American Heritage Bank branch location.
American Heritage Bank Scholarships give students the chance to compete for awards based on excellence in the classroom, academic scholarship, extra-curricular activities, civic responsibility, and understanding of financial literacy. These scholarships will be available to students regardless of economic need, physical abilities, race, color, national origin, religion, sex, handicap, or familial status and are not intended to replace any other forms of financial aid.
Best wishes on your pursuit of higher education from American Heritage Bank!
Jay Johnston,
CEO & Legal Counsel
American Heritage Bank Scholarship Award Winners
Congratulations to our 2022 $1,000 Scholarship Winners!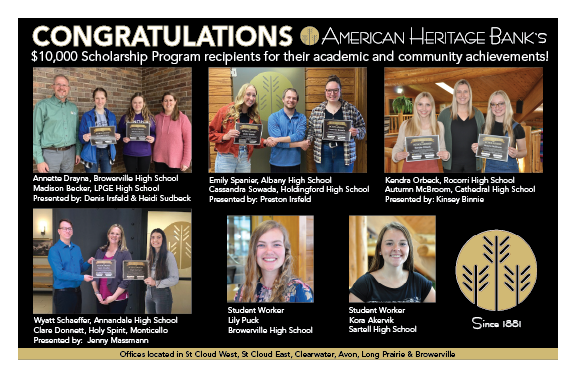 Best wishes to our 2021 winners: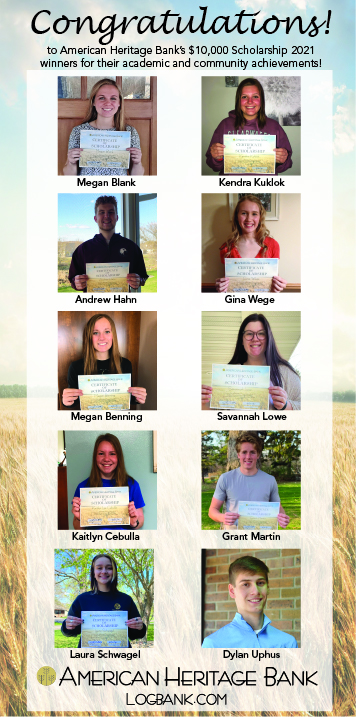 Best wishes to our 2020 winners: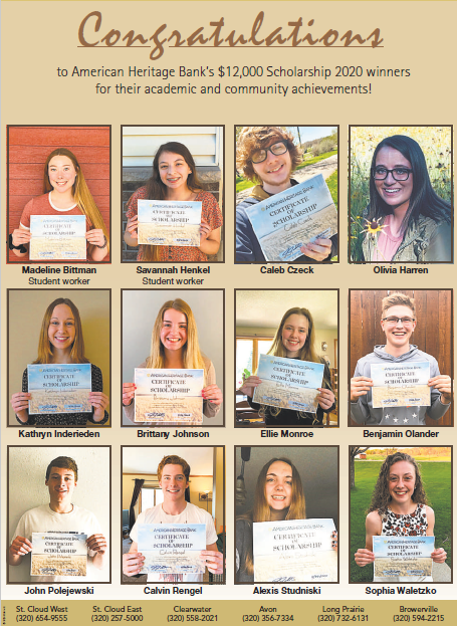 Best wishes to our 2019 winners: